Social media content is nothing new; you have meetings, deadlines and things come up. The internet moves so fast that you might occasionally feel thrown for a loop. Which is why a pre-scheduled social media content calendar should be your new best friend.
To make our job easier at planning and schedule across the accounts that we manage, at Media Center we use this type of tools. Because the field moves so quickly, the calendars are always updated with the latest social platforms features to post using smart strategies
What is a social media content calendar?
A social media content calendar organizes your publishing schedule by date so you can keep track of deadlines, better manage your content and post at specific moments of the day.
Every calendar is different and should be customized to fit your unique social media strategy. But it is recommend, to add a schedule tab, your monthly planning calendar and updates for each of the top social media platforms like instagram, Facebook and twitter.
The great thing about this tool is that as new social media platforms become popular and part of your content strategy, you can simply copy the spreadsheet and repurpose it for that new channel.
Each social media calendar is different
Since each social media network is different, you don't want to craft a generic post and use it in all of them. Instead, practice to create a different calendar for each platform. Image sizes vary across all platforms, the types of content that work well on Facebook might not doing so good on Twitter or instagram.
A monthly planning provides an overall snapshot of your annually campaigns. You can use a color-coding key for each campaign and enter the type of content you will be promoting per month to keep track of what is worth to use again and what is not.
Social Media Content Calendar Template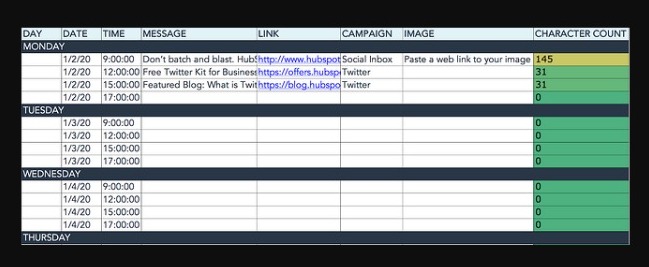 The first three columns, Day, Date and Time are there for your convenience, and the message column is for the text that you would be using in the post. After you've composed your caption, paste the URL you'd like to include in your post in the Link column.
Use the Campaign column to add an associated campaign which helps with more detailed tracking and reporting. Finally, in the Image column, attach the social media's image (if you have one).
Using a social media content calendar is important because allows you to visualize your social content strategy over a period of time and stay organized across all social channels. It helps your social media marketing efforts around important opportunities in your industry or company. It is always recommend to hire a content marketing agency that organized and take benefit of the calendar.